His reasoning was the time savings would pay for this purpose built unit very quickly, just from better orgainizaion.
His business requires he carries a lot of tools.
Drawers work well for orgainization.

A vise always comes in handy.
Pull out drawers with a deck on top.
Ladder Rack and special box underneath.
Better shot of deck.
If this doesn't get your attention?
Tool pouch has magnetic strips for smaller items.
Jason explaining how he can carry a lot of smaller tools with a door pouch.
Our door stiffeners and oversized hinges easily handle extra load.
Special box under rack for pvc, copper, etc. Doors on both ends.
Jason likes drawers.
A place for everything and...
Jason cut sheets of ethefoam to fit every tool.
Everything in it's place.
Screws, nails, electrical supplies, etc, etc. Jason requested drawers sized
to fit the cups.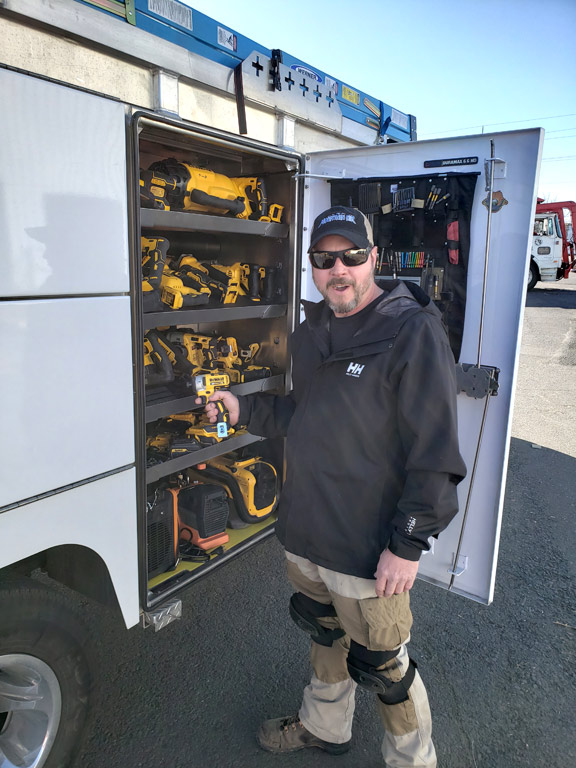 His theory worked - Jason says this first unit saved more time than he thought and bought two more "Highway Products" services bodies to compliment his growing "Mountain Air" business. Plus, his staff love them.
Thank you Jason for showing off your work truck. We really appreciate seeing what our customers come up with. Jason took this unit to another level.
So don't cheat yourself or your business out of extra prophet with one-time cost of orgainization. Highway Products service bodies will last forever so you can transfer them from an old truck to a new one.
We specailize in doing this type of customizing at "Highway Products". We hope you give us a shot at your business as Jason has.
He started with this truck (shown) and now has three.
How much time could you save?
Call 1-800-TOOLBOX (800 866 5269)