Aluminum Service and Utility Bodies?


Marine Grade Aluminum
Pickup Pack™

Designed for medium duty service with easy install in your factory bed.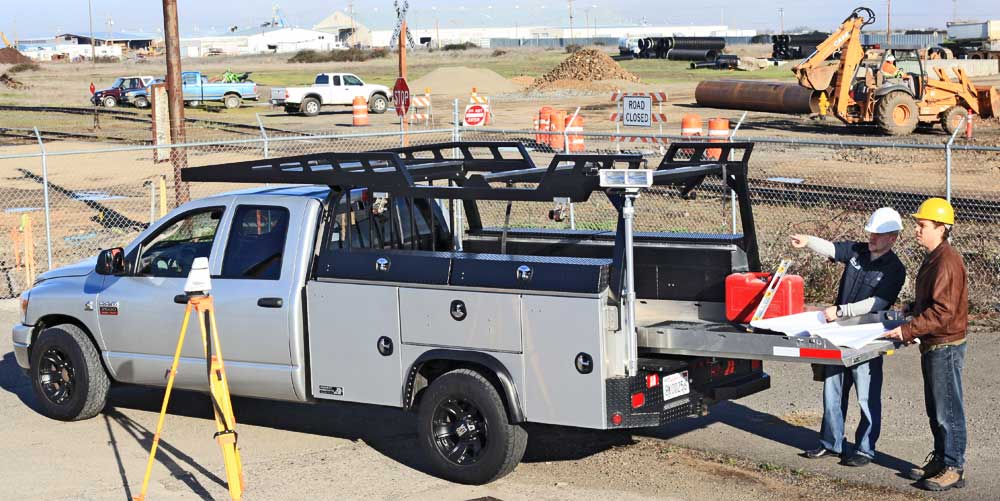 All aluminum Highway Products service body - powder-coated - lumber rack - 2000XT TruckSlide™ - Installed at our factory.
Lifetime Warranty!



Need Ideas?

Over 20 .pdf drawings of custom service bodies we've built for our customers.
Why buy your truck body from Highway Products.
Reason #1) Every business is unique. Your company does things different from other companies even in the same industry. Why shouldn't the biggest tool, your service body, be unique as well? You have to agree, building your body the way you want it will save time, which is money. That's what Highway Products can do for you.
Click on the picture or tab below to see how Jason from "Mountain Air" had us
build his service body unique to him.
Reason #2

Your Truck Body Must Be Weather-Tight!

Our Rainmaster® style doors give your truck body a weather-tight seal that can't be beat!
Highway Products developed this unique Rainmaster® style of internal rain gutter in 1984 for our semi and heavy truck tool boxes. It was so successful we carried it over to our truck body products. You can see the simplicity of this design makes sense and is very weatherproof.

Notice the rugged rain-gutter design surrounds the box opening and actually channels water away before it makes contact with the Trim-lok™ automotive style weather stripping. Hence the name Rainmaster®
| | | |
| --- | --- | --- |
| | Truck Bodies Need Tough Components | |
Reason

#3

No-rust

M

arine

G

rade

A

luminum.
Used to build our line of PAVATI™ pro-series boats, marine grade aluminum is also used to make these truck bodies the toughest and lightest bodies you will find.

We use lots of aluminum to build our products. In fact, 95% of our products are made of this great material. No rust.
#4 Truck Bodies Should be Light Weight
Light Weight Saves Fuel - Saves Wear and Tear on your Vehicle.Give you more payload capacity .
Highway Products 8' Aluminum Service body= 645 pounds
Competitor 8' steel service bodies = 1200 - 1600 pounds
Rollover Image (flash needed)
| | | |
| --- | --- | --- |
| | Aluminum Service Bodies Save Fuel | |
#5 - Fact: Aluminum is about half the weight of average sized steel or fiberglass (composite) service bodies; which equals 600 -1000 pounds. Respectivly, you could save 5% in fuel costs.
| | Military Contracts to Specification | |
| --- | --- | --- |
CAll 1 800 TOOLBOX (1 800 866 5269) 7am-5pm m-f PST
Reason #6 Rust, the number one killer of service and utility bodies...
We use a marine grade aluminum that is used by boat manufacturers world wide.
Fiberglass (composite) bodies crack. Repairs are hard to do and expensive.
Reason #7 What is the resale value of an average size aluminum service body.
Why sell it when It makes sense to transfer the body to your next truck. A steel bed will cost you more to transfer than it's worth. Maybe you add a new coat of paint and you look brand new!
Reason #8 An aluminum truck body can save thousands on the purchase of a 1/2 ton truck where a steel or fiberglass body might require a 3/4 ton truck.


#9 Field-Tested Locks - The same rugged locks and hinges our legendary semi truck tool boxes are know for.

We also have D-ring locks for fire departments. We've used many different styles of locks over the years. If you have a favorite, let us know.
Reason #10 Proven Hinges 14 Gauge Stainless Steel - 1/4 inch pin.

The most over-looked part of a truck body is the hinge. And the way it's fastened.

As you can see, Highway Products eliminated this problem by using oversized stainless steel hinges.

Stainless Steel Torx™ screws that allows user to replace a door with simple tools. No rivets.
Why buy from Highway Products?
Reason #11 - We can build you a custom truck body!
If you've ever had custom made cabinets in your kitchen at home, you know how much your wife brags on them. Drawers the right size, in the right place, shelves spaced to hold your dishes where you want them, knives and forks at your fingertips, choice of wood, etc. Because you had a choice, your kitchen is the most efficient and maybe the nicest part of your home. A custom service body does the same thing.
#12 Take your parts to the job.
Lift-out trays with dividers!

Not only do they make great storage bins, you can take them with you to the job!

Standard on all our service bodies.

#13 Drawers to your specs! One of the biggest time savers in a service body. We make lots of them.

Think about this for a minute: Sized to hold your tools at the level you want.
| | |
| --- | --- |
| #14 Adjustable shelvesls. | #15 - TuckSlide™ cargo drawer to speed you up and save your back. Click on the picture to see it. Lumber racks, hatch-backs, lights........ |
#16 - Low entry top boxes. See your parts.

Standing on your tippy-toes gets old when you're working out of your truck.


#17 - Baskets - Great for shovels, PVC fittings, conduit, hoses, and ....... We've made some of these baskets 2 feet tall for big pvc fittings.
Carry a lot of parts?

Another shot of our drawers. They're a great way to optimize your truck storage and organization. We use 300 pound ball bearing drawer slides in the small drawers and 400 pound slides in the bigger drawers.

Just tell us where and how many drawers you want.

Need drawers for your present service body? Call us with dimensions and get a quote.
#18 - Need to haul extra diesel in your service body?

Made it to fit your truck Reason 100% Heli-arc welded and 3/16 thick!

Add 100 + gallons of diesel fuel to your truck with a 15gpm GPI aluminum pump. Need a custom unit?
| | |
| --- | --- |
| #19 - Built to your specifications. Totally enclosed with a front compartment that goes through to the other side. As you can see, this customer had his own preferences. He loved it! | Large double-door boxes opening to the sides allowed easy access to his equipment. Extra-large boxes on the top gave him the space he needed. |
| | |
| --- | --- |
| #20 This all aluminum truck body was set up for garage door service and installation. He needed lots of storage for parts and equipment. Plus a rack to carry roll up doors and ladders. Custom built for his business. | #21 - The front compartment is also open clear through to the other side. Dry storage for longer items is not easy to find on service bodies. This one has lots of it. |
CAll 1 800 TOOLBOX (1 800 866 5269) 7am-5pm m-f PST
| | |
| --- | --- |
| #22 This service body has a full tailgate that when opened, makes for a nice table for lay-out plans. Notice the two levels in the back. The top level still has lots of room for gear, shovels, etc. | Reason #23 Here's the Highway Products TuckSlide™ in the out position. Comes in XT1200, XT2000,or an incredible XT4000 pound capacity for super duty, and has locking positions every 10 inches for safety. An all aluminum sliding cargo tray keeps the weight down with a galvanized steel track system for durability. These are awesome! "We like this option" |
Rea

#24
Highway Products can install your truck body at our factory.

Order your truck from Ford, Chevy, Dodge, Toyota, etc. and have it drop-shipped here. We do the factory install and ship it to you or you can pick it up here.
| | |
| --- | --- |
| | #25 Every unit inspected five times. |
| | | |
| --- | --- | --- |
| #26 | | Reason #27 Finding a spot to put your spare tire is sometimes a problem with service bodies. So we came up with this solution. An elevated shelf located in the front of your service body bed. This area is usually a tough spot to utilize anyway, so why not? If you have our TuckSlide™ option, we can also attach this shelf to the front of it so you can roll it out. Still leaves approx 10 inches of usable space under the tire with room to stash a jack, lug wrench, tire chains, or..... "We like this option." |
| | | |
| --- | --- | --- |
| | | |
Reason #28 Headache racks strong enough to carry as many caution lights, flags, or overload signs as you want. The outside frame is a one-piece extruded aluminum T6 channel that may also save your life in a roll-over. We can add brackets to hold your caution lights, flags, pipe, and more.
Reason #29 Lifetime Warranty! - We'll fix or replace defective workmanship, locks, hinge, and even light bulbs as long as you own your vehicle. (paint excluded)
Reason #30 Trained Sales Staff - We have sales staff dedicated to selling Service Bodies. So you will be talking to a Factory Trained person who can help you with what you need and give you a quote in a hurry. Call 1 800 TOOLBOX (1 800 866 5269) 7am - 5pm m-f PST
That's 30 reasons to buy an aluminum truck body from Highway Products.
| | | |
| --- | --- | --- |
| | Don't be fooled by "Composite" Service Bodies! It's just a fancy name for fiberglass. Our service bodies are welded Aluminum which is hands down tougher and 20-30% lighter than fiberglass! | |
How much more would it be worth to get a service body built just for YOU?

Built to hold YOUR tools. Built the size YOU need.
CAll 1 800 TOOLBOX (1 800 866 5269) 7am-5pm m-f PST
| | | |
| --- | --- | --- |
| Custom Service Bodies Save Time. | | Make Employees More Efficient. |
| | | |
| --- | --- | --- |
| Special Needs Are Our Business | | |
| | | |
| --- | --- | --- |
| | Mobil Veterinarian | |
| | | |
| --- | --- | --- |
| | All compartments, adjustable shelves, drawers, slide-out TruckSlide™, Top-side boxes, and lumber rack. | |
| | | |
| | | |
| --- | --- | --- |
| Filler cap stashed behind one of the doors of your service body prevents fuel theft. | | Like the fuel filler (shown left & below). |



Want more ideas?

Over 20 .pdf drawings of custom service bodies we've built for our customers.
CAll 1 800 TOOLBOX (1 800 866 5269) 7am-5pm m-f PST
If you call us with ideas fresh in your mind, we can give you a ball park quote. If you're ready, we'll send you a preliminary blueprint.




Then, when it's time, you simply call and order. We already know who your are, have your specs, and you get what works for you. Not what's sitting on someone's lot. Weekdays 7am - 5pm PST

Call 1- 800- TOOLBOX - (1-800- 866- 5269)
| | | |
| --- | --- | --- |
| | Don't want the expense of a service body? | |
Need More Info?


CAll 1 800 TOOLBOX (1 800 866 5269) 7am-5pm m-f PST